In Memory
Fred Case - Class of 1978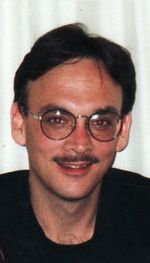 ROY-Frederick Phillip Case III, 48, died Thursday, February 14, 2008 at his home in Roy.
He was born November 16, 1959 in Lansing, Michigan, the son of Frederick Phillips Case and Judith Malnar Case. He graduated from Seoul American High School in Seoul, Korea.
Fred worked for the Internal Revenue Service as a Tax Examining Technician for 22 years. He was actively involved with the employees union, NTEU Chapter 67, at the Ogden Center. Fred had many friends in Utah, as well as Massachusetts, Washington D.C., Maryland, Michigan and California, as a result of temporary duty assignments to those IRS offices.
He loved to travel, to meet people, and to experience the adventures in life. He took great pleasure in giving gifts to family and friends, and care in selecting them. His enthusiasm, humor, and generous heart will be sorely missed.
Surviving are his parents, sister Deirdre of Utah, brother Tom of California, his grandmother, aunts, uncle, and an extended family in Michigan and California.
At Fred''s request, cremation has taken place under the direction of Lindquist''s Crematory, and a family burial will be held in Michigan at a later date. Funeral directors, Lindquist''s Bountiful Mortuary.