In Memory
Bruce Newman - Class of 1973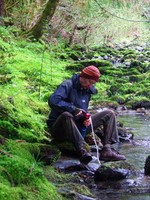 There is a Facebook page dedicated to the memory of Bruce.
http://www.facebook.com/home.php#!/pages/In-memoriam-of-Bruce-Newman/156258044404308?v=wall
none Bruce Joseph Newman "Love, Partner, Teach, Guide, Inspire" vision of Evergreen Christian School Bruce Joseph Newman was born September 3, 1954 in Frankfurt, Germany. He was the second son of Fredric J. and Francine J. Newman. Bruce went home to his Lord and Creator on September 21, 2010 in Olympia, Washington surrounded by his family, friends, and colleagues. The Celebration of Life service to honor and remember Bruce's life will be on October 2, 2010 at 1:00 P.M. at the Evergreen Christian Community/Center. A dessert reception will follow on Newman Court at the Activity Center of the church. All are invited and welcomed. Bruce and his family traveled the world because of his father's position with the Department of Defense. Fredric Newman and Francine Fournier met in the aftermath of World War II in France. They married in Fountaine Bleu, and began their family. Bruce has an older brother Peter M. Newman, a younger sister Michele Koziara, and a younger brother Jeffrey C. Newman. Mrs. Newman lives in Laguna Hills, California; his sister lives in Newport Beach, and oldest brother lives in Kailua Town, Oahu. He is also survived by his great aunt Hope Efron and her sons and family who reside on the East Coast. Bruce was brought up in the cultural richness of Europe visiting many museums, battlefields, and castles. Family vacations were travel away to the Baltic and the Black Forest region. At one point Bruce's father remarked to the family that he hoped hauling Bruce to all these historic sites would pay off! And they did. When not living overseas in Europe and Korea, the family was stationed in New York, Virginia, and Hawaii. Bruce graduated from Seoul American High School, Seoul, Korea in 1973. He won the Most Inspirational Award his senior year, was junior class president, and captain of the Varsity Basketball Team. Bruce took many trips throughout Korea, Japan, and Taiwan before coming to the Pacific Northwest in the summer of 1972. Bruce applied and was accepted to Fairhaven College, a division of Western Washington University in 1973. While there, he met his fiancée, Lloyde M. Bloodworth on January 6, 1974. Bruce earned degrees cum laude in History with a German, and Education minors in 1977. Bruce lived in Olympia since 1977, living in the Bigelow Historic Neighborhood since 1978. Bruce was passionate about remodeling his home, and a terrific gardener. Many people would comment how warm and relaxing the house was, and how splendid the gardens were at any season. Bruce loved each season and holiday, and enjoyed decorating the house for each event. Bruce also performed a kind of magic to make sure Lloyde's recitals ran smoothly, and everyone was comfortable. Bruce began his first and only teaching job in a classroom on September 1977. Bruce established the middle school history program at Evergreen Christian School. He also was the Athletic Director for the school, coached Cross Country, Girls' Basketball and Track and Field. Evergreen Christian School has enjoyed the reputation of being in the top of their league for the last 33 years thanks to Bruce's great knowledge of how to play any sport through discipline, concentration, knowledge of tactics, and desire to give one's best. Bruce earned his Master's Degree in History in 1986 at Western Washington University, graduating with a 3.9. Prior to beginning his master's program he was required to take the Graduate Record Exam – and he scored in the top third of the United States.. Bruce was a National Endowment for the Humanities scholar twice, Freedom Foundation scholarship awardee, and received numerous awards and recognitions throughout his career. Bruce took students back east many times to discover the nation's capital, Jamestown, Williamsburg, and Thomas Jefferson's and George Washington's homes. He greatly enjoyed these trips as he had grown up in Virginia when his family was not stationed overseas by his father's work on behalf of the Civilian Personnel Service, of the Army. Bruce was married to Lloyde Marri Newman on June 28, 1975. Bruce and Lloyde honeymooned down at Lloyde's family cabin at Agate Beach, Oregon for an entire summer. Bruce and Lloyde celebrated their 35th anniversary this summer –by traveling to the Lake of the Woods, and enjoying the plays presented by the Oregon Shakespeare Company in Ashland. Bruce's life was enriched by the many students he taught that became like sons and daughters to him and Lloyde. The house was always open for a student or alumni who wished to see "Mr. Newman." Bruce also went to the weddings, track meets, graduations, and other meaningful life events of "his kids." If you were especially lucky, you would be invited to hike up the Hood Canal area, or canoeing out at Nisqually Wildlife Refuge with him. Bruce was passionate about being outside and part of nature. Some days he was just content to watch the cloud formations, or the way the waves broke on the shore – other days involved vigorous hikes that tested everyone who came along for the trip. Bruce was blessed to see many areas of the state that most people don't have the opportunity to discover and explore. Bruce was usually the first on the trail, but just as happy to lag back and keep company with a new climber, exhorting and encouraging. Bruce's last big trip was to the Boundary Waters of Minnesota in August 2010, traveling with a very close friend. Each day was beautiful, and peaceful. Bruce loved nothing better than setting out for a new adventure, and was never happier than to return home to his beloved wife and welsh corgis. Earlier in Bruce's life he was a true competitor in most 10K, 5K, and various fun runs. On his 40th birthday he won the Black Cat race in Tacoma, Washington. His average time when running a 5k was 5.40 minutes per mile, but didn't want attention brought to his speed. Bruce was also blessed with a keen mind and intellect, and he enjoying sparring with others on their political views, books recently read, movies viewed, and conversations shared. In his wallet was found a very savvy political cartoon – and speaks to Bruce's involvement in all of life – it was a life in synchronization and dedicated purpose. He would also craft careful Letters to the Editor, and even won the Letter of the Month award from the Olympian for May 2010. Bruce was a wonderful husband, committed to his marriage and home. He made a home of security and comfort for his wife. Their home is a testament to his careful work and care. Bruce and Lloyde were most happy at home. A perfect afternoon would be a brunch at Cicada, reading, playing with the dogs, reviewing the past week, looking forward to the new. Bruce's teaching gift was not only used while employed at Evergreen Christian School, but also teaching Sunday School from 1980 until his death – teaching little ones from 2-5 years of age. He loved using his flannel board characters, making the stories come to life, and had a great ability to teach Bible stories and keep the children's' rapt attention. Bruce and Lloyde led a small group through Evergreen Christian Community, giving leadership to four other couples for the last six years. Challenging books and discussions followed by a host of good cooks preparing supper was something that everyone looked forward to. Bruce greatly enjoyed leading the small group and again, had a way of communicating the Gospel in a meaningful, down to earth manner. Bruce was a member of the Washington State Historical Association, ticketholder in A Contemporary Theatre, Seattle since 1986, Harlequin Theatre ticketholder, avid Husky fan and sports fiend. Memorial donations may be made by contacting Principal Cyndi Pollard at Evergreen Christian School. Ms. Pollard can be reached at 360-357-5590, or by email at Cyndi@ecsonline.cc It is impossible to sum up a life that has touched so many. Please believe and take comfort in the time, teaching, and love that Bruce happily and passionately poured into every life he touched. Lloyde welcomes your phone calls, emails, and company because Bruce never wanted her to feel alone when he went on extended hiking excursions – so you are more than welcome to stay in touch.