In Memory
Carroll B. Hodges (School Board President)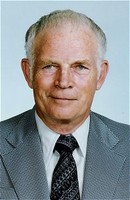 Dr. Carroll Broadus Hodges
January 3, 1914 – December 2, 2004
Soldier - Scholar - Athlete - Statesman
Born in 1914, Time magazine once described Dr. Carroll Broadus Hodges, 90, as a "soldier-statesman." It reflects a life that was as varied as the countries in which he lived and traveled: both as a career Army officer and later as an International Relations advisor.
Dr. Hodges, who would've turned 91 in January, passed away on December 2nd from a year-long battle with cancer. His life was a similar battle of hard work over difficult odds. The Tulsa native grew up the son of a Baptist minister-farmer and a schoolteacher-mother and graduated college during the Depression at Oklahoma Baptist University, working full-time while making his mark as a triple-threat athlete (basketball, football and track.) After WWII he would wind up coaching one of Greece's first Olympic basketball teams. But it was in the classroom and on campus where his future both as a scholar and diplomat were made. He obtained a Masters from the University of Oklahoma and did post-graduate studies at Duke University and the University of Edinburgh (Scotland.) He earned a Ph.D. in Industrial Psychology from the University of Munich (Germany) as well as honorary doctorates from two Korean universities for his work in that country.
Perhaps, however, it was his month-long 1,500 mile bike ride from France, across the Italian Alps, through Yugoslavia, to Greece at the outbreak of war in 1939 that would indicate some of the persistence and diplomatic skills young Hodges would require for the rest of his life. He managed to escape the Nazis with the aid of friendly Europeans and hard pedaling. It may have been a precursor to his days as a 1964 advisor to the Japanese Olympic committee as well as in international relations.
He retired from active duty as a colonel in 1969.
In 1983 he was featured in a book, "A Degree of Difference," as one of the 10 most distinguished graduates of his alma mater. Later he would be selected for a nearly identical accolade when he was awarded the Korean Prime Minster's citation as one of the "50 Americans making the most significant contributions to U.S.-Korea relations during the past 100 years."
And Korea—where he spent nearly 30 years after a nearly identical lengthy career as an Army personnel officer and in counter-intelligence—is where he made an indelible impression on U.S.-Korea relations. He left a trail of good works and good will as the Field Director for the American-Korean foundation and then as an International Relations Advisor to the Commander of all US Forces - Korea. The wise counsel of Dr. Hodges, who had the confidence of Korean dignitaries and the appreciation of the Korean people, was an invaluable American diplomatic asset; thus a statue was erected by a Korean school for the major contributions he made Korea-wide.
Since 2000, Carroll has been listed in Who's Who in America and Who's Who in the World.
A quiet thoughtful man, who found that a love of golf was helpful in his people-to-people diplomacy, he later provided the Suntree Rotary Club and the Suntree Methodist Church good replacements during his retirement to Melbourne in 1995.
Surviving are his wife of 60 years, Harriet; two sons, Howard (SAHS '65) of Greenbelt, MD and Keith (SAHS '67) of Brunswick, GA; a daughter, Miok of Novi, MI; three grandsons, Matthew, Aaron, and Sean; a granddaughter, Naomi; and a great-granddaughter, Carsyn. (A great-grandson Caden was born after his death.) He is also survived by two Sisters, Sunny Hamrick and Patricia Kerr as well as one brother, Samuel Hodges. (Sameul died after Carroll's death.)
A memorial service was held at the Suntree United Methodist Church in Melbourne, FL on December 8, 2004. Carroll was buried with full military honors in Arlington National Cemetery on a beautiful spring day in 2005. Contact with the family may be made by writing keith.hodges@comcast.net.