In Memory
Elizabeth Wunderlich - Class of 2006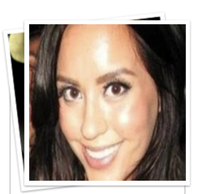 Elizabeth C. Wunderlich, age 23, a resident of Minneapolis, MN formerly of the Burtrum area passed away Wednesday, May 18, 2011.

Elizabeth Coffeen Wunderlich was born on October 25th, 1987 in Angeles City in the Republic of the Philippines. She was named after her grandmother Elizabeth (Betty) Wunderlich and her great grandmother Vera Coffeen Wunderlich. In August 1992 at the age of 4½ Elizabeth moved with her father Percy Allen Wunderlich and brothers Noel, 17 and Derek, 7 ½ to Yokota Air Base in Fusa, Japan. Elizabeth attended East Elementary School at Yokota Air Base and Middle School at Yokota Airbase. While in middle school, Elizabeth was the commander of the JROTC honor guard. In November of 2002 she transferred from Yokota High School to Seoul American High School at Yongsan Army Garrison in Seoul, South Korea.
Elizabeth was a JROTC cadet for four years while attending school, and graduated in 2006. In August 2006 she moved to Minneapolis, MN and graduated from The Aveda Institute in July 2007. Elizabeth survived a six story fall into the Mississippi River as a result of the I-35W Bridge collapse. Elizabeth had a passion for life and enjoyed reading, fashion, film, good food and her kitties; and she especially loved her family and dear friends.

She is survived by her father, Percy; brothers, Derek and Noel; sister-in law, Agnes; niece, Vixie Anne and nephew, Vixen Neil. Also by her uncles, Bruce and Curtis; great uncles, Charlie and Bill; aunts, Wanda, Vickie, Richael, and Mary Jo; great aunts, Julie and Peggy; cousins, Darrell, Shawn, Chris, Erin, Emily, Eli, Patrick, Aaron and Michael. She was preceded in death by her grandparents, Henry and Elizabeth (Betty) Wunderlich and great-grandparents, Earl and Vera Wunderlich. Pallbearers will be Shawn Wunderlich, Kevin Wunderlich, Robert Crippa, H.G. Reynolds, James Benson and Stephen Schwanke.
https://www.shelleyfuneralchapels.com/obituaries/ElizabethC-Wunderlich-927/#!/Obituary