In Memory
Bradford Ward - Class of 2008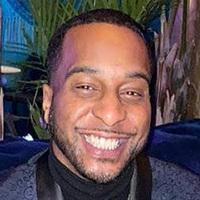 On June 18, 1990, God blessed us with the bright and shinning presence of Bradford "BJ" Ward, Jr.
Brad would grow and prosper into a free-spirited, intelligent, and resilient man who had a million-dollar smile exuding with warmth and charm. He had an adventurist soul who did not fear the unknown and loved taking long, long (constitutional) walks. He also enjoyed pontificating on past and current events.
Along his adventurist journey, he would meet a host of people whom he referred to as his "home boys" and "home girls". In addition to his family, his friends would hold him up when he needed it, and they would also come to see him as the life of the party, a friend that they could count on, and a handsome-man with an extremely beautiful, big smile that lit the room up.
He attended high school at Seoul American High School in Yongsan (Seoul), South Korea, where he participated in JROTC from 2004-2006 and Daegu American High School in Daegu, South Korea, where he participated in basketball and football cumulatively from 2006-2007. He enlisted in the United States Army and completed Basic Training at Fort Jackson, SC. He completed the Advanced Individual Training (AIT) at Fort Gordon, GA, as an Information Technology Specialist (25B). After completing AIT, he was assigned to Headquarters and Headquarters Company, 2nd Infantry Division (Mechanized) at Camp Red Cloud, South Korea. He earned the National Defense Service Medal, Global War on Terrorism Service Medal, Army Service Ribbon, and the Overseas Service Ribbon before being discharged.
On July 7, 2020, God decided that it was time to call his free-spirited and adventurist child home to him to rest for an eternity. He is gone from us, but he will never be forgotten. Brad left his pontificating commentary and his profound legacy with each and every one of us.
Brad will forever rest with his parents.
"I was born by a river in a little tent. O, just like that river, I've been running ever since.
It's been a long, long time coming. But I know a change's gonna come..." Sam Cooke
"Finally, brethren, farewell. Be perfect, be of good comfort, be of one mind, live in peace; and the God of love and peace shall be with you." 2 Cor. 13: 11
Condolences to the family may be made at www.brinsfieldfuneral.com
Arrangements by the Brinsfield Funeral Home, P.A..